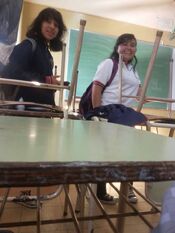 Adriana Navarro (right) and Aylen Taboada (left) are recurring characters in Misericordia.
Appearance
Edit
Adriana is a short-stature.high-tempered and good intentioned 17 year old girl who wears a black shirt from the school and Adidas pants.
Aylen is a tin girl with a bell-like hairstyle who wears a sweater from the registered school mark.
Aylen was Franco's first friend in school.
At the end, Adriana has a more pasive personality, but during the year, his personality evolutioned as a more high-volume kid or tomboyish.
Aylen is somewhat similar to Franco in some ways as his personalities are similar.