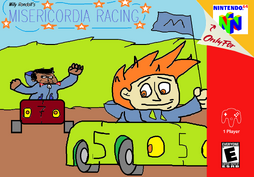 Willy Randall's Misericordia Racing
is a racing game for the Nintendo 64 made by Europeannx and ditributed by Neopolix on December 5. It is also the first Misericordia game not to be developed by the institution.
The player can select 4 Misericordia students initially, Willy, Luis, Nahuel and Robert, and there are another 2 unlockable characters, Maylen and Franco. The player must ride around 20 circuits and come in the first place to win Misericordia Crystal Fragments.
Characters Stats
Edit
Initial Characters:
Edit
| Image | Character | Accel. | Turning | Top Speed | Weight Group |
| --- | --- | --- | --- | --- | --- |
| | Willy Randall | 3/5 | 3/5 | 3/5 | Middle |
| | Luis Mamani | 2/5 | 2.4/5 | 4/5 | Heavy |
| | Nahuel Maas | 4.5/5 | 3.2/5 | 1/5 | Middle |
| | Robert Castia | 1/5 | 1/5 | 4/5 | Heavy |
Unlockable Characters:
Edit
| Image | Character | Accel. | Turning | Top Speed | Weight Group |
| --- | --- | --- | --- | --- | --- |
| | Maylen Vertone | 2,3/5 | 5/5 | 3.6/5 | Light |
| | Franco Dell'aglio | 5/5 | 5/5 | 5/5 | Middle |
Tier List
Edit